Our version of the perfect french manicure.
30 Press-On nails in 15 sizes
Nail file
Alcohol cleansing pad
Cuticle stick
Nail glue
30 adhesive tabs
Application instructions
Exclusive long coffin shape
Nails are straight rather than curved
Made of strong and durable high quality material, designed to look and feel like professional salon acrylic nails
The base of the nails have a gentle flex to fit your natural nail shape, providing a seamless and comfortable fit
Non damaging
Easily customizable (check out our nail clippers here)
Quick and easy application and removal
Long wearing if desired (up to 2 weeks if application instructions are followed properly)
Orders are generally processed within 1-2 days, Monday - Friday (excluding holidays). Orders placed over the weekend will ship the next business day.
For health and safety reasons our products are non-refundable, however if for any reason you are unhappy with your purchase, or your item is defective please contact us within 7 days of receiving your package at help@scandalbeauty.com and we'll be happy to assist you.

Reviews
Customer Reviews
Write a Review
Ask a Question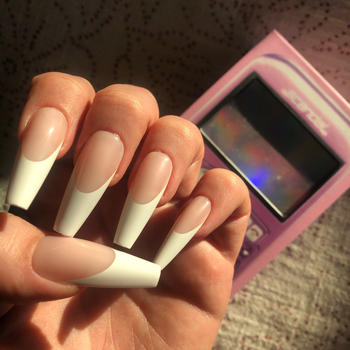 05/10/2021
THE SLUTTY FRENCH MANI OF MY DREAMS
Stunning packaging and vibes, absolutely PERFECT nails. I always ask for this at the nail salon and nobody is able to do it! But who needs a salon when I've got these :) already ordered my second set. Luxurious and beautiful. Forever Stan of Scandal here, baby!!
Francesca F.

United States
06/02/2021
MANEATER NAILS
Overall good quality strong beautiful shape and color would buy from this shop again
05/21/2021
Must get it!!
I compete for Body building "Bikini". I train alot so usually I cant have nails on me but I use it for my show day and it's soo stunning!! Even I do pump at the back stage my nails never came out!! Forever competition nails❤︎ Thank you❤︎
Oceana J.

United States
05/14/2021
Love them!
Lasted about two weeks. I prepped my nails super good this time and took my time with the sizing and it lasted me as long as an acrylic full would! love them!!
Jovanna H.

United States
05/14/2021
BUY HER NAILS
Omg these nails are so nice the glue is amazing and there so strong
Charmaime

USA