SO BLU
Long Coffin Shape.
★ Royal Blue Holographic Glitter ★

Long Coffin Shape.
★ Royal Blue Holographic Glitter ★

30 Press-On nails in 15 sizes
Nail file
Alcohol cleansing pad
Cuticle stick
Nail glue
30 adhesive tabs
Application instructions
Exclusive coffin shape
Nails are straight rather than curved
Made of strong and durable high quality material, designed to look and feel like professional salon acrylic nails
The base of the nails have a gentle flex to fit your natural nail shape, providing a seamless and comfortable fit
Non damaging
Easily customizable (check out our nail clippers)
Quick and easy application and removal
Long wearing if desired (up to 2 weeks if application instructions are followed properly)
Orders are generally processed within 1-4 days, Monday - Friday (excluding holidays). Orders placed over the weekend will be processed the next business day.
For health and safety reasons our products are non-refundable, however if for any reason you are unhappy with your purchase, or your item is defective please contact us within 7 days of receiving your package at [email protected] and we'll be happy to assist you.

Reviews
Customer Reviews
Write a Review
Ask a Question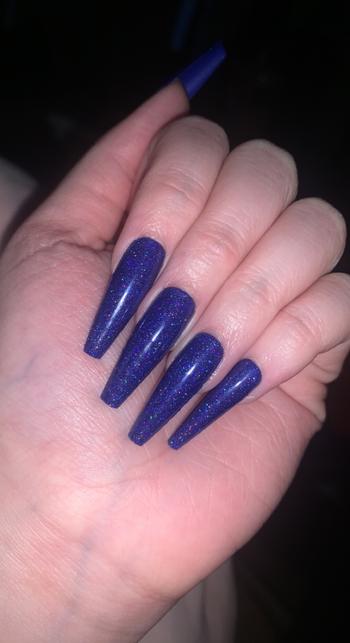 02/04/2022
LOVE THEM
They stay on very well, fit my nail size and also look really pretty. 10/10 recommend to anyone who wants press on nails. They're also very strong so they don't break either. ☺️
Augustine N.

United States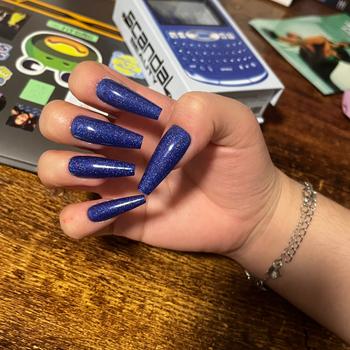 01/25/2022
2nd time buying and the nails came thru again!
I ordered Love Spell nails awhile ago and they were so pretty and the nails fit so well so i wanted to try a new style. LOOKS SO GOOD AS ALWAYS! The blue is so cute :,) They last so long too so if you're thinking about buying DO IT! you won't regret it ! <3 omg also shipping is so fast !
Khloe O.

Los Angeles, CA
08/22/2022
Absolutely Fabulous
These nails are stunning and I can't get enough of this company! 100% recommend
07/16/2022
So blu
One of the best press ons i have ever worn.point blank period
Ariel M.

United States
01/14/2022
Love
As someone who never gets my nails done I was nervous. Easy for my first time. Feel sassy af
Anna D.

United States
01/09/2022
I love both the sets I got! This is the first time I've ever used press ons and honesty they cheaper then getting my nails done and there not hard to take off!
Mary O.

United States