Stainless steel acrylic nail clippers.
Included
Stainless steel acrylic nail clippers.
Scandal Beauty stainless steel acrylic nail clippers gently and effectively cut artificial nails. Regular nail clippers or scissors may crack, split or damage your press-on nails. Our high-quality clippers feature an extremely sharp blade, designed to safely and easily cut the nail tips.
Directions
Insert the tip of the nail into clippers at a 90° angle.
Hold Straight and Press Handle Gently to Cut Tip.
Use a file to smooth any rough or sharp edges.
Customizing Your Nails
Watch the video
NOTE: For Use on Artificial nails only
Shipping
Orders are generally processed within 1-4 days, Monday - Friday (excluding holidays). Orders placed over the weekend will be processed the next business day.
For health and safety reasons our products are non-refundable, however if for any reason you are unhappy with your purchase, or your item is defective please contact us within 7 days of receiving your package at help@scandalbeauty.com and we'll be happy to assist you.

Reviews
Customer Reviews
Write a Review
Ask a Question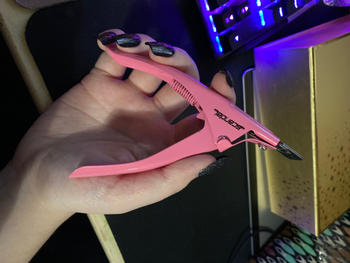 01/10/2022
Amazing !!
Probably some of the best press ons I've ever worn !! They weren't lying when they said their glue is strong because multiple times when I thought my nails would've popped off, they were still super secure. I've had my set on for almost two weeks now and not a single nail has come off since :D highly recommend the glue, and the press ons themselves are super strong and durable. The clippers also made it super easy to cut them down neatly and easy to file and shape ! Love them and I can't wait to purchase more
Sara S.

United States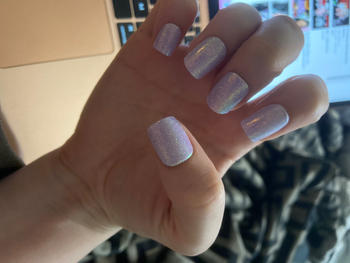 10/03/2021
Amazing!
I need short nails for my job so I enjoyed the longer version over the weekend. These cut so clean! I'm very very impressed!
Mary C.

United States
06/04/2021
IN LOVE
I LOVE these nails. so cute and so strong, i love the nail glue. i cut them a little and they still have the shape and design, absolutely love them. will be buying from you again
Jaymee K.

United States
02/22/2022
Amazing!
Perfect salon style cut
Crystal A.

United States
12/13/2021
Great Clippers
Work really well in chopping my acrylics
Katherine C.

United States
10/24/2021
Nail clippers
Awesome! Works like a charm
Val T.

United States
10/21/2021
Worth It!!
These nails were so amazing!!! I ordered the Daydream set and I am in love with them!! It was super easy applying them and all my friends love them. Shipping was amazing! They actually arrived sooner than I expected. The quality of these nails are amazing! The nail glue is super strong and the designs are beautiful!
Gianna D.

US
07/02/2021
Worth it.
Never going back to acrylics again. Thank you Scandal Beauty. This is so convenient.
Priscilla C.

United States
06/29/2021
Love these sooo much!!
These nails are amazing, if you push down your cuticle, they will last for weeks, I was actually shook at how real these look, they do not look like press on/glue on at all!! I'm actually loving this color because I can trim them and it's a perfect everyday/work look!!! Please do not even think about discontinuing this color, I'll cut you just kidding but not really lol
Melissa G.

United States